Fairthorpe Sports Car Club Turner Reunion

The Manor Hotel
Crickhowell, Wales
July 14, 2002
Photos and information courtesy of Russell Filby..
The Annual Turner Rally, sponsored by the Fairthorpe Sports Car Club and organised by Russell Filby and Dave Scott the FSCC Turner registrar, was held on July 14th 2002 at The Manor House, Crickhowell, Wales.

The rally proved again to be an enjoyable day , accompanied by the finest day of the Summer yet.

The following 8 Turners were in attendence:


| | | |
| --- | --- | --- |
| Chassis No. | Reg. No. | Remarks |
| 004A | MAB 121 | Early Special owned by John and Geraldine Kenyon from Cornwall |
| 60/291 | 700 AOV | Alexander Mk I owned by Nigel Taylor of Milton Keynes |
| 60/318 | 281 AXO | Climax Mk I owned by John Butcher of Essex |
| 60/345 | 231 YYC | Mk I BMC owned by Terry Filby of North Somerset |
| 60/375 | 2 RTD | Mk I owned by FSCC Chairman Derek Bentley of Sussex |
| 60/423 | 116 JTG | Mk I owned by David Chilton of West Yorkshire |
| 62/544 | 220 WMA | Ford Mk II owned by Ron Taylor of Fairford |
| 65/649 | NPO 656D | Mk III 'Heron' owned by Charles and Michael Fines-Alinn of Buckinghamshire |




A number of Turner Owners also attended without their cars , and we were especially delighted to welcome Lorn Stanners and his wife , who came by during their vacation in the UK . Lorn from Edmonton Alberta , Canada has owned his Mk II Turner Climax since 1971 and until the Rally had never seen another Turner.

As special guests both Lorn and his wife were treated to a ride in John Kenyon's early Turner 004 .

All were thrilled when Jack turned up to chat with the owners and look at the cars. Jack's attendance was in doubt as he is awaiting a hip replacement in the coming months.

All credit to Jack for making everyone's day complete, not only by attending, but also welcoming owners back to his home to talk, look at his Turner pictures , and have a look in his workshop where he still keeps busy making Scale Steam Engines from Scratch ! A truly talented Engineer .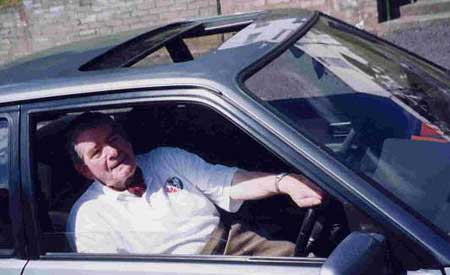 Special thanks to Jack from us all.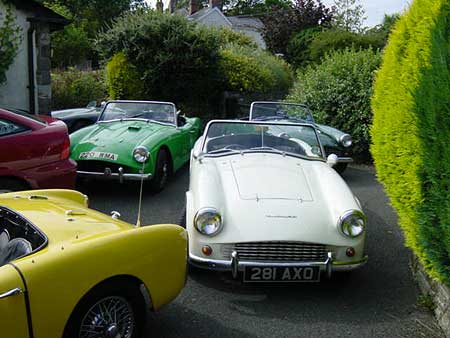 This photo was taken outside Jack's home.


Click here to see more photos of the gathering.