Connecticut MG Club Car Show
Turner - Marque of the Year

Waterford, Connecticut ~ Sunday, June 6th, 2004



The Connecticut MG Club's "British By The Sea" car show will be held on June 6th, 2004 at Harkness Memorial State Park. We have selected Turner as marque of the year for this, our 17th annual show. It is a rain or shine event held on the north shore of Long Island Sound.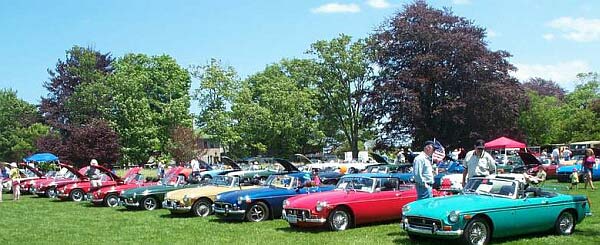 We should have over 300 British Beauties displayed in 40 classes including cars, trucks, motorcycles, and even boat engines. The vehicles on display come from Connecticut, Vermont, Massachusetts, Maine, New Hampshire, Rhode Island, New York, New Jersey, Pennsylvania, Canada, and as far south as South Carolina. We have a food vendor, but you can bring you own as there are charcoal grills located throughout the park. You can tour the restored mansion, or take a walk on the beach. The southerly exposure to Long Island Sound brings on an onshore breeze that makes for great kite flying. This is a family event so we even have a coloring contest for the kids.

As a donation to the park for the use of their front lawn for our event, the Club has an event called "Planting Day" where the club provides several thousand plants and the peoplepower to plant them in an effort to restore the gardens to their original grandure.

For pictures of past shows, please go to our club site www.CTMGCLUB.com, click on "Photos" in the first (top) section. You will find "British By The Sea 2002", and under "Car Shows" click on "British By The Sea 2001". Under "Events" click on "Planting Day" to see photos of that event. Or you can use the following direct links



Room will be left on the display lawn for any Turner Club tents or displays that you might want to set up. Please call or e-mail Steve as indicated below.

Please e-mail at MGTD52@comcast.net or call 1-860-693-4249 if you need any additional information.

Steve or Annie Wincze