Turner Reunion

Lime Rock Park
Lime Rock, Connecticut
Aug 30 - Sept 2, 2002

Information courtesy of Steve Agins
Photos courtesy of Doug Fraser
and Douglas A. Fraser Photography



Turners made an excellent show for themselves at the Lime Rock Fall Festival with three racers and four street cars at the festival despite weather forecasts and other factors that kept as many as 6 additional cars away.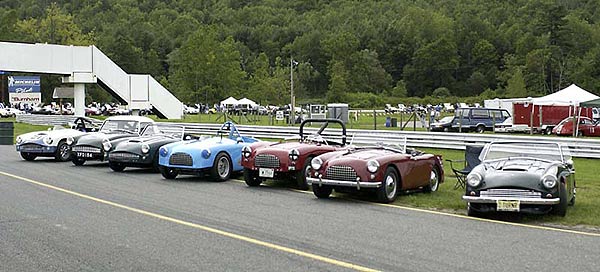 From Right to Left, the Turner's of: Steve Agins (Mk 3), Dave Lewis (950), Doug Fraser (950S), Ed Forer (950S), Ted Newsome (Mk 3), Norm Sippel (Mk 1), and Mike Muckle (Mk 3).


From a racing point of view, the high point may have been Mike Muckle's fifth place (best lap 1:12.383) in a race that included a pair of Aston Martin DB4s, a Ferrari 250SWB and a wide ranging field of 28 starters that also included an Alfa Sprint Zagato, a Bugeye (Frogeye to our UK friends) and more. At the finish, with one of the Astons trailing him, Mike also led Norm Sippel in his street driven MG-B racer (best lap 1:13.395 in 9th position), Thane Pressman in 12th with a best lap of (1:16.027), Doug Fraser in15th with a best lap of 1:16.561). Ed Forer whose brilliant blue racer was fast in qualifying, didn't finish.

From an emotional point of view, the high point must have been Skip Barber- a former Turner racer, now owner of Lime Rock Race track, leading a parade of the Turners driving Doug Fraser's 950S- a twin to Barber's original racer. He must still love Turners very much, because when the parade started, Skip took off like a bat, leaving the rest of us far behind. For terrific images of the Turners on display and on the track, and the other racers, visit Doug's web site at www.dougfraser.com

Norm Sippel actually brought both his recently acquired Turner racer (which will be ready for competition in the spring) and his racing MG-B. Two wonderfully original streetcars, Dave Lewis and Ted Newsom's plus my restored Mk III, rounded out the showing. Ted, despite threats of rain that actually dumped as much as 4 inches not far away, drove his from home, actually making two round trips over the weekend.

On Sunday when there was no racing, all the cars were on display on the main straightaway, and attracted considerable attention from the crowd, including one gentleman who has had a Turner that we didn't know existed, in his garage for many many years. He's promised to contact Dennis at the web site and register the car.

Jack Turner was greatly missed and our hope that he'll be back on both feet quickly, and able to travel by next year.

We have been invited back to Lime Rock for the festival next year. If the idea of participating sounds interesting, please let me know at email (smagins@aol.com). And Skip Barber has promised that if we can get Jack to attend, he will try to get some of the restrictive technical requirements currently imposed on Turners to be reexamined by the sanctioning organizations, and that will make the Turners even more competitive.