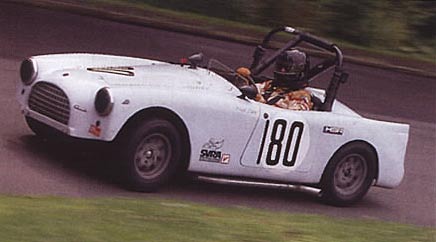 Mixed among your typical red, yellow, and green hues of vintage race cars was Fred T. Lieb's baby blue Turner 950S. This visual disparity from the norm demanded we take a second look. Usually this pigment would be more at home covering a '57 Chevy Nomad or double nickel T-Bird and not English fiberglass. "It's a genuine Brit color; their attempt at turquoise," commented Lieb.

This Turner has basically remained unchnaged for the past 40 years, except for the obvious additions of safety advancements. Okey, the engine was bored 50cc over its original 948cc. "Since the power plant has never been on a dyno, my guess is it's producing 90 horsepower, noted Lieb. Complying with the FIA rulebook of '59 and loaded with all the period options of the time, the Turner's configuration is fairly original. How does Lieb know this? He's the guy who bought the car in '59 for $2700. When it comes to maintaining all the Turner's mechanicals, Lieb is the chief, cook and bottle washer.

Initially, Turner (I believe this should read Lieb) raced the car in SCCA competition. His '59 racing season including an impressive fourth in the GT4 class at the 12 Hours of Sebring. He's been vintage racing the 950S at virtually every race track east of the Rockies since 1985. It's astonishing that Fred has never competed through Pittsburgh's Schenley Park. He has now!

Running SVRA-legal A70 x 13 Hoosiers mounted on Minilite wheels, the 1350-pound race car uses a single Weber DCOE carburetor for good acceleration and 8.5-inch disc brakes; Austin suspension pieces compliment the tube chassis.

"The Turner did experience some understeer on the downhill sections, but generally provided a stable racing platform throughout most of the street race course," said Lieb. He managed a respectable 11th in PVGP's Group 3.

"Pittsburgh was a blast," smiled Fred. So we can expect to see his baby blue Turner at Pittsburgh again next year.