BACK in August 1978 I was considering buying a car to rebuild, mainly to try to steer my son's interest in motorcycles towards the relative safety of four wheels. I mentioned this to a friend, who suggested that I look for something with a bit of historic interest. An acquaintance of his had stripped down a Turner two years previously and had never rebuilt it and he might be prepared to sell the remains. My interest was aroused as I knew that Turners were built locally to my home in the Midlands and they had had a successful racing career in the early Sixties. I began to get really enthusiastic, but alas the owner was not interested in selling. I scoured the ads in T&CC, Exchange and Mart, etc., but there were no Turners to be found.

I was telling this frustrating tale to another pal over a pint one day, and to my surprise he said he knew someone with a car under a tarpaulin and thought it might be a Turner. It had been sitting for two years or so, and may be for sale. My enthusiasm immediately sprang to life again.

A few days later my friend phoned and said yes, it was indeed a Turner and the owner was interested in selling it. Success! That Thursday morning we peeled back the tarpaulin and there it was, a very tatty Turner. No engine, one odd wheel, crashed at sometime, and so badly repaired that the front nearside was drooping three inches lower than the offside It really did look a mess - Five different colours of paint showed through lumps of badly applied filler, yet I loved it. To the seller's astonishment I made an offer. He thought we would have to pay someone to take it away! And thus it was mine.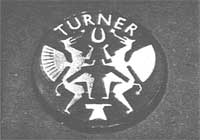 Problem number one, how to get it home. The Turner was cajoled on to a trailer by kicking the front wheels into line and lots of push and we were on our way. Once it was out in the open I began to have misgivings. I must be mad, I thought. Never mind, get it home and hide it so that no one can see it! I well remember the family's expression when the garage door was lifted and Dad's new hobby was first revealed to them! I think they were expecting something a little less like a scrap heap than the sight that met their eyes and were probably hoping that the neighbours weren't watching. However, they showed great faith and a sense of humor about it all and remained non-committal.

Investigation

I am fortunate in having a large double garage so the family cars were relegated to live outside while I started to conduct my "love affair" inside! It was my intention to work most evenings during the winter. However in reality winter evenings are cold and there is no substitute for daylight so most work has in fact been done during the daylight hours, on winter weekends and summer evenings.

For two months, I poked and prodded and evaluated what needed to be done. It was obvious from very early on that my original idea, of dropping in an engine, a quick coat of paint and away we go down to the pub, fresh air in our hair, was just going to happen! It was a case of either scrap the whole project, and buy something else, or a complete rebuild. Several more weeks of thought followed and a plan for a complete rebuild was worked out. I put no time limit on the project as I knew that if I pressed myself to keep to schedule I'd start taking short cuts to the detriment of the finished article.

Work actually started in Spring 1979. First thing was to remove the body. The Turner consists of an inner metal body with an outer glassfibre shell riveted to it. All ancillaries were removed and stored in boxes. The bolts holding the body to the chassis were either so fusty that they broke under pressure of had to be drilled out. This was fairly easily done, although my skinned knuckles belied the fact. The body was hoisted on a pulley and the chassis wheeled out from underneath. The body was then put to one side and attention turned to the rolling chassis.

I had joined the Turner Register by now and received from them workshop manual photostats, wiring diagrams, and a whole pile of other information that was invaluable. This I read and diagnosed until every aspect of the car was firmly imprinted on my mind before I ever started to work. This is a must. What can appear to be an absolute problem can usually be solved by a few nights thought and identification of the parts involved. For instance, the coil springs on the front suspension are held by a plate retained by four bolts. I couldn't find a spring compressor to fit, so two bolts were removed, leaving the compressed spring held by the remaining two bolts. Two 10 ins threaded bars were bolted through the holes where the bolts had been removed and the other two bolts were then removed, leaving the spring compressed by threaded bars. The nuts on these were then undone, allowing the spring to decompress as they are undone down the length of the threaded bar. Re-fitting the coil springs is simply a reversal - straightforward, effective and cheap.

What fantastic assets friends are. The wire wheels were taken away and sandblasted at one friend's factory, taken to another friend's factory and stove enamelled three time, and returned looking like new. This was the first sign of how things would look in the end and what a boost to the enthusiasm it was.

The chassis had been away to have new outriggers welded on, and on its return was wire brushed, rust proofed, and painted with Hammerite. The suspension was overhauled and bolted on complete with the steering rack. The rear suspension, which at sometime past had been converted to coil dampers instead of Turner's laminated torsion bar, was re-assembled. The brake linings were renewed, also all the brake pipes which had to be fabricated specially. The gleaming wire wheels bolted back on and the rolling chassis looked really immaculate.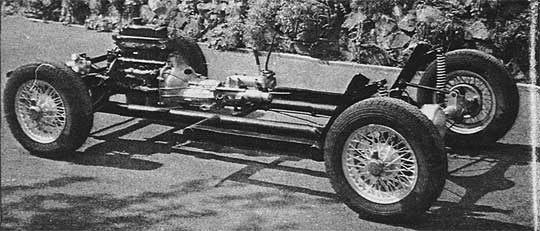 The Turner's chassis, freshly restored with the engine in place.


I now took a few months off to catch up with the garden and have a bit more time with my ever-patient wife. I really am very lucky she has never once begrudged my time spent in the garage, or if she did she has never said and coffee has always been supplied without any prompting. I'm surprised it was never laced with arsenic, but then she's not like that, really

During this period talks were going on with a mechanical genius by the name of David (Daring) Depper, a local hillclimb exponent who can breathe life into anything that remotely resembles and engine. Originally my Turner had an 850cc BMC A series engine, followed by a 998cc A Series. We decided to look for a 1275cc A Series, and one was duly purchased along with a gearbox and left in Daring Depper's hands. Fortunately the original twin SU carbs and manifold with the name Turner cast into it had been found amongst the rubbish in the boot of the car while clearing it out. This was also left in David's hands with the request to deliver in about six months time!

Register rescue

The outer body shell was next for attention and upon examination proved to be very badly repaired with cardboard, chicken wire, aluminum and filler. There were tears and cracks all over, and it rapidly became apparent that it was simply beyond repair. This was very disheartening as I did not want any old 'special' body, I wanted a Turner. I phoned Dave Scott of the Turner Register and told him of my problems and asked if he knew of anybody with a cheap Turner with a decent body on it. No he didn't. Now this is where marque club devotees really start to work miracles. Dave Scott told me he had in his possession the original mould which Turner Mk II bodies (same as mine) had been cast. This was the answer to my prayers. The mould was fetched from the bottom of his garden, cleaned and repaired, then a brand new body, finished in filler gelcoat ready for rubbing down was collected in the Autumn of 1980. I propped it over the rolling chassis and immediately saw the shape of things to come. The old body was duly removed from the metal inner body and hidden away ...

Meanwhile it was back to despair time yet again as I found that the inner body virtually fell apart once the glassfibre shell was removed. A local welder was called in and he cut and welded new plates, sills and bulkheads. Dave Depper made two inner front wings and these were also welded into place. The whole inner body was then rustproofed, painted with Hammerite and well and truly Waxoyled before being placed on blocks in the garage. The engine compartment was sprayed original British racing green and the dashboard recovered and riveted into place while the instruments were cleaned and repaired, replaced and fitted.

The thought of re-wiring terrified me, I had a small wiring diagram, supplied by the Turner Club, so I sat down with a pen and paper and re-drew it five times as large - an excellent way of getting to know what goes where. A new loom had been acquired, through contacts supplied by the club - see how useful they are - and although the supplier did not know if this loom would be the same as my diagram, at least it would be a good basis upon which to work.

Imagine my pleasure, on laying the loom on the drive, when I found that if corresponded exactly to my diagram, even down to the colour coding. This was fitted into the inner body and everything connected up, marking each connection on the wiring diagram in red ink as it was made, also checking each circuit with a simple bulb circuit tester. It really was a simple logical job that gave me great pleasure. This completed, the inner body was left on its chocks in readiness for fitting to the rolling chassis.

The engine had by this stage been finished and fitted along with the gearbox and propshaft. On to the next problem - the exhaust manifold. This had to leave the engine at an approximate angle of 25° to clear the chassis. No proprietary manifold would fit, so a Cooper design with a long centre branch, was adapted by cutting out a vee at the top of each branch where it joins the plate bolting it on to the engine. The manifold was then bolted to the engine and pulled out to clear the adjacent chassis tube as the nuts were tightened. Then the top of the manifold was re-welded where the vee pieces had been cut. A short length of flexible pipe was then welded to the bottom of the manifold which in turn fastened to the silencer, the tailpipe of which had been brought out at the side of the car in front of the rear wheel line.

The inner body was now hoisted by pulley off its blocks and the chassis/engine etc, wheeled underneath. The inner body was lowered and fitted, the wiring connected up to the engine compartment and the battery fitted. Cautiously the ignition key was turned - the petrol pump ticked away, the petrol gauge registered and the ignition light glowed. So far so good! All lights and indicators were checked by bulbs connected to appropriate wires and they worked! What a satisfying feeling. It was coming to life at last!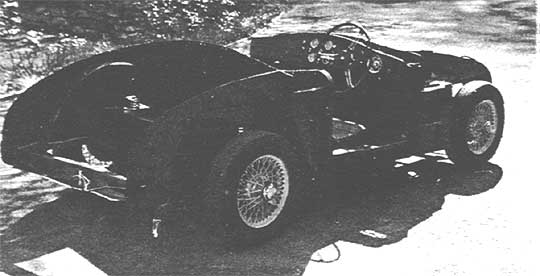 The interesting inner bodyshell needed major surgery and it's seen here taking shape.


The next job was to start, or at least attempt to start, the engine. I was waiting to get the car running before putting the outer body shell on - as any remedial tinkering could be carried out with the utmost of ease of access and without damage to bodywork by dropped tools etc.

Daring Depper

Daring Depper appeared early one Sunday morning with a cheerful grin and a "well let's see if it goes then", and we proceeded to check the timing and tested for sparks at the points. No problems. The spark plugs were removed, the ignition switched on and the starter button pressed. The engine spun rapidly and oil pressure built up - always advisable with an initial start up. We then switched off the ignition and replaced the plugs. David positioned himself by the carburettors with fingers flexed ready to fiddle - ignition on, choke out, go, go, go, and it did just that!

Through the blue haze caused by the inhibitors used during the engine rebuild, I grinned deliriously at Dave who was busy making adjustments to the twin SUs. After a couple of minutes we switched off and checked all around the engine for any signs of leaking joints - just one on the short by pass water hose - quickly rectified. Restart engine again whilst Daring Depper listens to the SUs with a piece of plastic pipe and balances the two together. A nice steady tickover and 65 lbs oil pressure. With great pride the Turner moved out from the garage under its own power, the only problem being the voltage stabiliser on the fuel and temperature gauge. Easily rectified and then on with the body.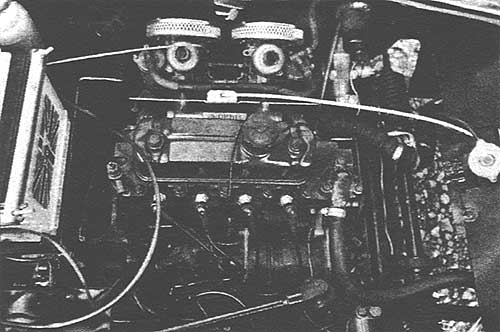 The daring-Depper-prepared A-Series engine with its Turner cast manifold.


During the plating and welding of the inner shell I would have expected some distortion to have taken place. This was minimal, and apart from the curvature at each corner of the rear of the cockpit the body fitted reasonably well. The lip at the rear corners of the cockpit had to be cut away, to be reglassed and filled at a later stage, when the inner flanges bonding the shell to the inner wings were glassed in in situ. The outer shell was then pop riveted and bolted to the inner shell.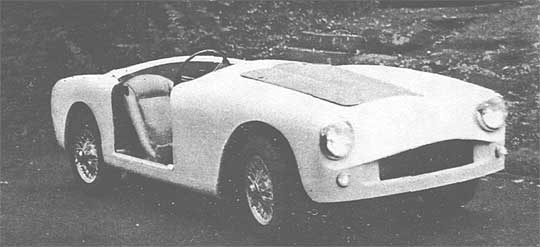 The shape of things to come. The 'new' body is in place and the original bonnet positioned.


Now it was time to tackle the bonnet and boot lid. These were from the original car and had numerous star cracks in the gel coat and to do a proper job I wanted to remove all paint previously applied. These were orange, maroon, blue, grey undercoat, original green and white undercoat. Several application of Nitrimors glassfibre paint stripper were needed and eventually we were back to the original white undercoat which had been sanded through, around a few of the cracks, to the clear gel coat. The only way to treat these star cracks is to grind them out down to the matt glass and fill them. I used plastic padding elastic and then sanded them down level with the existing surface.

A good rub down followed with medium grade wet or dry sandpaper on a rubber block. The few pin holes in the filler exposed by sanding were filled by pressing plastic padding into them, another cup of coffee and a cigarette, rub down again with medium wet and dry paper (always used with copious amounts of water) then wet sandpaper, fine grade, all over. To my gratification the cracks could not be detected by running my hand over them with my eyes closed, so hopefully they would not show when painted

Later what week I sprayed undercoat on them and to my joy they were undetectable. To my horror though, other pinholes appeared. These were filled by smearing plastic padding elastic over them on the end of a finger then after re-sanding, another coat of undercoat and the result was very pleasing.

The inner and outer bodyshell next had to be joined by glassfibre mouldings along the tops of the inner front and rear wings. These were made in situ, then drilled and bolted through the inner wings when set. All ancillaries were then attached - bumpers, windscreen, lights, doors etc. They were then taken off and the car was ready for sanding and spraying. Here I chickened out! Two lads from the local garage had recently formed their own body repair and paint shop, under the name of Bodyline of Kinver. They had done an excellent job on my wife's car and had given very helpful advice to me on how and what to do, so we struck a deal and the agreed to finish and spray the body for me.

I arranged to drive the car down to the paintshop on trade plates. I might have known that 100 yards down the road it would start to pour with rain. I was completely oblivious to this, after 4½ years work the car was on the road under its own steam. It felt superb. My state of euphoria was suddenly broken as I approached Bodyline's premises. At the bottom of a steepish hill was a halt sign. What happens if the brakes don't work! Panic over; a smooth straight line pull up and turn into the paint shop. In due course I was advised that the car was ready and next day went to collect it. I was absolutely over the moon when I saw it resplendent in British racing green. The hulk that had lurked in my garage emerged transformed like a butterfly from a chrysalis. What a wise decision to let the lads at Bodyline do the paintwork. I could never have managed a finish like that.

After about a week, when the feeling of not daring to go near it, for fear of scratching the paint, had worn off, it was treated to a coat of polymer sealant and all the brightwork, lights etc, put back on. The windscreen which I had been told was virtually unobtainable, had been carefully stored for nearly five years in the garage. Unfortunately it suffered a traumatic experience while the car was away for spraying. My son and a friend were working on something in the garage with a spring compressor which slipped. You can imagine which direction it took off in at about 60 miles per second. That's right, straight through the carefully guarded windscreen. Words certainly did not fail me when I was told. After regaining my composure (some days later) I took the screen and frame to a local windscreen specialist and to my amazement was told that they were sure they could get it done if I could leave it with them. This I did and in about three weeks they phoned me to say it was ready. The firm, Kidderminster Safety Glass, had in fact subcontracted it to another firm who had replaced Turner screens before. I believe it had to be cut down from an Austin-Healey 3000 windscreen, so that was another problem solved. The inner trim, door panels and seats which had all been remade or recovered during the previous winter were then all fitted. And that was that - the culmination of almost five years work.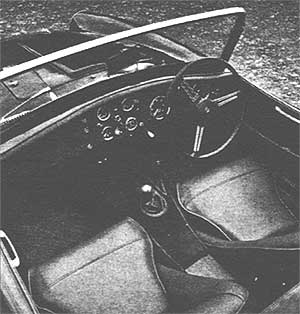 The smart and practical cockpit as refurbished.


The car has been used frequently during the summer but I remember thinking before the first 'real' outing that if I get half as much pleasure using it as I have had in restoring it, I shall be quite happy...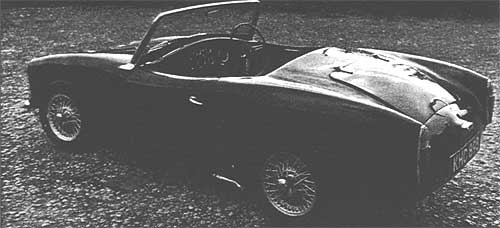 The completed car, note the side exit exhaust.


If anyone is contemplating a similar project, I would certainly recommend it and pass on these comments:
Try not to put a deadline on any project. It usually takes longer than you think.
Think the particular job you are tackling through to the end, before starting. A week's thought usually provides the answer to any problem.
Thoroughly identify and store all parts on removing them.
Work to a logical sequence.
Work only when you feel in the mood, otherwise it becomes a chore.
Join a marque club if there is one, their help and expertise is invaluable. Good luck!!