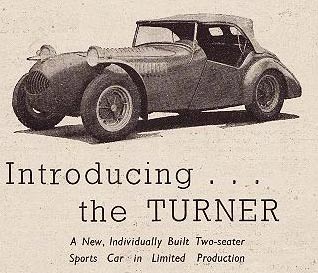 LATELY, a new two-seater sports car, the Turner, has been seen in competitions. Now in limited production the car is made by J.H. Turner Sports Cars, The Smithy, Selsdon, near Wolverhampton, and has such interesting features as independent suspension on all four wheels, a tubular chassis, and Elektron wheels and brake drums. There is a choice of four different engines - the 1,442 c.c. Vauxhall Wyvern, the 2,275 c.c. Vauxhall Velox, the 1,250 c.c. M.G. and the 1,767 c.c. Lea Francis. If the Wyvern is specified it can be fitted to order with a special manifold and two carburetters. An M.G. gearbox is used with the Vauxhall units.

Bent to provide an A-foundatin in the middle, the chassis is made of two 3-in. 16-gauge T45 tubes with cross-members welded in at the front and rear. A central cross-member carries the rear engine-mounting, which is at the back end of the gearbox. The E.N.V. differential unit is welded directly to the chassis, and the drive is taken out through Hardy-Spicer couplings to the rear hubs. Both at the front and the rear, the independent suspension consists of one long transverse leaf-spring with wishbone links at each end below. Damping is provided by Girling shock absorbers. Girling two leading-shoe brakes are used, with drums size 9 ins. by 11 ins. The braking system has two master cylinders, operating the front and rear brakes in the ratio of 60 per cent to 40 per cent, respectively. Modified Morris rack-and-pinion steering gear is employed. The Turner has a wheelbase of 8 ft. and a track of 4 ft. Tyre size is 5.25 by 16.

With its 18-gauge aluminium body-panels, the fully equipped car (petrol tank empty) weighs 12½ cwt. Specification includes a folding hood and side curtains. Weight of the chassis with engine and gearbox is 9½ cwt. It is claimed that the Wyvern-engined prototype (which has now done over 10,000 miles) is good for 80 m.p.h. and will do 30 to 35 m.p.g. A member of "The Motor" staff who had a brief trip in this car was favourably impressed with its handling, steering and braking qualities; moreover, the acceleration seemed very good. Incidentally, the first production Turner sports car, which has a Lea Francis engine, is said to have a maximum speed of 112 m.p.h. on 80-octane fuel.

Approximate basic prices of the "hand-built" Turner are as follows: With Vauxhall Velox engine, £725; with Vauxhall Wyvern engine, £700; with Lea Francis engine, £900; and with M.G. engine, £800. Purchase tax is, of course, extra in Great Britian.

For the time being, J.H. Turner intends to produce about 12 of these cars per year, but he has bought some land at the back of his existing plant and hopes to expand in the future.