Since the war there have been literally hundreds of British outfits which have tried to market specialist sports cars and almost every one of them disappeared fairly rapidly. One firm which did seem set to survive was Turner and for over a decade, Jack Turner's sports cars won a strong following, particularly in America, and, within the cars' limits, built up a respectable list of competition successes.

Turner was born in Abergavenny in 1916 and began a general engineering apprenticeship 15 years later. Out of his time, he worked for Gloucester Aircraft and spent the war in charge of a large toolmaking facility which undertook, among other things, many of the components for the first Whittle jet to fly, the Gloucester E38/98.

At the end of hostilities, he managed an engineering company in Wolverhampton subcontracting to Austin and, as conditions became normal again, began work on his first Turner Special. He'd already become an MG enthusiast, graduating from an 'M' type to 'J' and 'T' types and, around 1949, set about creating a single-seater based on the chassis and running gear of an 1100 cc supercharged Magnette. This car was pure MG apart from its body and twin rear wheels but it provided Jack with a means to sprint and hill climb and pick up a few places in class until he retired from competition in 1953.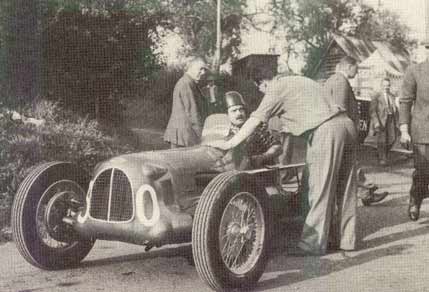 THE "Turner Special", with its creator at the wheel, at Shelsley Walsh in 1949. This car was in fact a rebodied MG Magnette. Jack is at pains to point out that the helmet was borrowed !


As the Fifties dawned, more and more people were becoming involved in the sport and special building was rife. Jack detected the need for someone to undertake machining and so on for the fraternity and, converting a stable block and smithy into a workshop, set up in business and also began work on his first originally-designed car.

The layout of the prototype established the pattern for his cars until 1955. It had a simple frame made from large diameter tubing arranged in a lozenge shape and front and rear suspension was by transverse leaf springs and lower wishbones. Morris Minor rack and pinion steering was used (what would the British special building scene have done without this item of kit ?), a 4 cylinder Vauxhall Wyvern engine fitted, because it was available and the idea was first to prove the design by clocking up a high mileage, and the whole was clothed in an aluminium body reminiscent of the later Lotus 6. An unusual feature was the use of cast magnesium wheels with detachable rims. John Tojeiro became a customer and these wheels were fitted to his early cars. Apart from the shape of their frame, the early cars of Turner and Tojeiro were very similar in concept, though were made simultaneously, Tojeiro supplying enthusiasts in East Anglia, and Turner at first selling exclusively in the West Midlands. Drivers then often supported their friendly neighbourhood constructor.

Turner ran this first car for 50,000 miles and believes, contrary to conventional wisdom, that miles on the public highway with its wide variety of surfaces and conditions, is a better test of a car than racing.

Into the picture comes John Webb who, after serving in the Royal Artillery during the war, had first explored the possibility of sheep farming in Australia until deciding, on the death of this father and elder brother, to rejoin the family business which made English lead crystal glass. Like many others, he was still restless after the war and having become bored with piloting private planes, sought an outlet in motor racing. He'd bought the ex-Reg Parnell MG K3 Magnette which had a unique dohc cylinder head designed by Laurence Pomeroy. Eventually he took his car to Turner for preparation, saw the first Turner sports car, liked it, and deciding that his MG chassis was too heavy to do justice to his 120 bhp engine, asked Jack to build him a single-seat version. When a deal to buy an ERA engine fell through, Webb fell back to using his Magnette engine and gearbox.

The result was a pretty little car with which Webb took third in the 1951 Manx Cup. The following year more power was obtained by 2-stage Wade supercharging. John now modestly says that he was no ace and so it's hard to assess the car but it seems to have been a competent special of its day, capable of achieving the odd decent result. Both the engine and the original chassis are extand, incidentally, but are in different hands and waiting for the right marriage broker to bring them together again.

Eight of these Turner chassis were made. One went to Ken Rose, son of Hugh Rose, the Lea Francis designer, who fitted it with a 1 1/2-litre Lea Francis engine and a Ferrari 166-style barchetta body, made by Carbodies of Coventry, the general effect of which was undermined by a Morris Minor grille ! Like John Tojeiro, Turner basically supplied a chassis and the customer specified the engine and body. One had a 6-cylinder Vauxhall Velox engine, another had a 1 1/2-litre Lea Francis, one was supplied as a rolling chassis without an engine, the seventh chassis will be dealt with in detail, while the eighth was merely a spare frame though Jack believes it was later built into a complete car.



IN the manner of the day, Turner provided his customers with chassis to which they fitted their own bodies. The two cars depicted above had identical chassis, but the car on the left is Turner's Vauxhall-engined prototype while that on the right is the Lea Francis-powered version of Ken Rose.


Chassis No. 7 became the Turner F2 car and different from the others in that it had a 7 ft 6 in wheelbase (as opposed to 8 ft 0 in) while the 9 in Girling brakes gave way to 11 in drums. Webb wanted to move up a class and Turner had his eye on Grand Prix racing which, in 1953, was run to F2 rules. Unlike today, when a driver wishing to go racing on a budget joins the queue at a production racing car manufacturer, it was then cheaper for Webb to commission a completely new car.

Apart from the shorter wheelbase, the chassis followed the general layout of the Turner sports cars but it is the eventual engine which is interesting. Through his relationship with Ken Rose, Jack come to know Hugh and was able to arrange for the cast iron Lea Francis engine to be redesigned to allow it to be cast in light alloy with wet liners. The head featured larger valves, triple valve springs and dual ignition. Con rods were machined from Lea Francis rough forgings after a standard rod destroyed the first, iron-block engine and the power (145 bph at 6,000 rpm -- higher revs caused severe valve bounce) was transmitted through an Armstrong gearbox with close ratios to the chassis mounted ENV differential.

The most interesting aspect of this engine was the use of SU fuel injection adapted from an aircraft unit and overseen by SU which, at the time, was working in conjunction with Jaguar. This system gave very little trouble and Dick von der Becke, the engineer assigned to this guinea pig project, had little to do. Turner made two engines for his own use, the first with a bored-out cast iron block, destroyed when a con rod demolished the block on the Isle of Man (marshals presented Webb with the remains at the prize giving), and the second with an alloy block. A dozen alloy blocks were supplied to Connaught, one of the alloy heads was fitted to a cast iron 1,500 cc Lea Francis block which was sold to Raymond Flower and found its way into a Kieft which ran at Le Mans in 1955 and I've come across odd references to others, though Turner assures me that those authors are inaccurate.

The F2 Turner did not take racing by storm though when Webb entered the likes of Jack Fairman and Ron Flockhart in it, it picked up a few places. In 1955, at Crystal Palace, a locked brake caused the car to slew and roll, throwing Webb out. John had had his fling, marriage was in prospect and although his fiancee encouraged his racing John thought it best not to continue, and he bowed out of active racing though he later served on the council of the Bugatti Owners' Club and is a member of the BRDC. The Turner F2 car is believed to exist in the Birmingham area.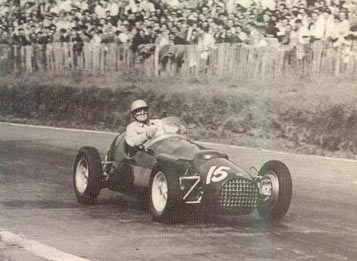 LE PATRON, John Webb, at the wheel of the Turner F2 car which he used between 1953 and 1955.


Before proceeding to the mainstream Turner sports series, we have to account for two other projects. The first was an F3 car built for Don Trueman who approached Jack having found his Marwyn to be too heavy to be competitive. Turner made a scaled-down, lightened, version of his sports chassis into the rear of which Don fitted a JAP engine. The car is still active in hill climbs.

In 1952 Jack built an interesting little four-cylinder 500 cc engine with a view to the current F3. This had air-cooled barrels and a water-cooled dohc head, since Turner had in the back of his mind, its application to the BMC Series "A" engine. It had a roller bearing crankshaft, "square" dimension (54 mm x 54 mm) and would reputedly rev to 12,000 rpm. Cyril Kieft, who lived locally, took an interest in this unit and announced plans to build 25 lightweight sports cars powered by it, but these plans contracted and though John Webb was on the driver list for the 1954 Le Mans race, the engine was never used in a sports car.

Jack Turner remembers a flash reading of 80 bhp being recorded with the engine running on an alcohol mixture when on the SU test bed. Cyril Kieft says that it never gave more than a useable 38 bhp and its reliability was dubious. Around 50 bhp was considered a good figure for a contemporary race-tuned double-knocker Norton.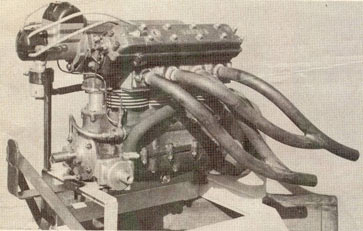 TURNER's neat little 4 cylinder 500 cc engine of 1952. Though this unit proved unsuccessful in competition work, the dohc cylinder head was fitted satisfactorily to a BMC series "A" engine. Turner still has the plans should anyone be interested in a twin-cam Mini or Metro.


Three engines were made, and two were fitted into the Kieft F3 cars of Burgoyne and Ford but neither proved competitive. The third unit was retained by Turner but parts were cannibalised to assist Burgoyne whose engine, still owned by his sons, proved unreliable. Around 1964/1965, Jack eased out the hemispheres of the head he retained and fitted it to a 948 cc Series "A" engine.

Originally the Turner engine was fitted with four Amal carbrettors which soon gave way to twin SUs. In its last form it had a double-choke Weber and apparently gave 65 bhp on the test bed and was run in a car without encountering problems. Some writers have claimed that work on this engine in the '60s drained the company's resources and helped to force it into liquidation in 1966 but, as we will see, that was not the case. This theory does not hold water because the cylinder head had existed for over a decade and Turner had taken on its adaptation to the Series "A" motor as a little project in his spare time. That engine was sold when Turner Cars went into liquidation early in 1966 and perhaps a reader knows of its whereabouts today.

Jack Turner is a restless man and it became clear to him at the beginning of 1954 that he was not going to establish himself in racing and, besides, there was no money in it. On the other hand, as an MG enthusiast, he realised that there was no natural replacement for the Midget series. Just as Reliant has recently done with the SS1, he detected a gap in the market and decided to fill it with a small, economical, practical sports car. John Webb became a co-director in Turner Cars (Wolverhampton) Ltd, but though he assisted with capital, he remained a sleeping partner in the firm until, in 1960, he offered his shared to Jack and was bought out. The two men remain friends and I met Turner at John Webb's house as a first stage in preparing this article.

Late in 1954, the first Turner 803 was produced. This was built around the 30 bhp 803 cc Austin A30 engine and four speed gearbox and used a number of other components from the car, including the front suspension (with differently rated springs added to the double wishbones) and live rear axle, though steering was by Morris Minor rack and pinion. A simple, but rigid, tubular chassis terminated at the back with trailing arms and torsion bars, Girling dampers and a long Panhard rod, a layout which was to serve Turner for the next decade. Although the first six bodies were of steel, subsequent ones were of fibreglass with fabricated steel inner panels. Turner tried to persuade BMC to supply him with components direct but his negotiations with George Harriman were unfruitful and he had to buy all his parts through a BMC agent, an arrangement which added possibly £100 to the price of the car which came onto the market at a basic £475, plus purchase tax, fully assembled. The trouble was that BMC was already planning the Austin-Healey Sprite which was aimed at the same niche of the market which Turner hoped to fill.

The new company moved from the converted smithy to fresh premises in Merridale Road, Wolverhampton, and though initial response to the car was positive, the process of getting production under way meant that the first cars moved slowly. Turner arranged for the singer, Petula Clark, to be assisted in the purchase of an early example, the first of two she owned, in return for which a lot of valuable publicity was generated.

From the beginning, the market pattern was established. At home, most Turners were sold as kits (to escape purchase tax) which required a weekend's work to assemble but most fully built cars, and by far the greater proportion of all production, went Stateside. Weighing only around 10 cwt, the 803 would do 75-80 mph, return 45 mpg and, it was generally agreed, it was a nicely made, practical, will behaved little car with a decent boot and whose major faults, typical of a small maker, were a spartan interior and an awkward hood. Since the free world was hungry for sports cars, and the Turner had no direct rival, the car got away to an encouraging start.

Despite what you may read elsewhere about Turner production figures, a precise account is not possible because the early register was burned in 1960 when two amateur petermen tried to cut their way into Jack Turner's safe. Fifty 803's seems, however, to hit the mark and to this figure was added a further 150 when BMC uprated the A30 to the A35 and gave it a 948 cc engine which Turner immediately adopted, the 803 becoming the 950. Apart from the engine, these cars are identical to the earlier ones, though a few sprouted rear (rather ugly) fins after the fashion of the day. The 950 model stayed in production from 1956-59 and was soon winning a reputation on the race circuits.

In 1958, Austen Nurse's three car team won the Autosport Team Championship (for Production sports cars) and Peter Baldan's Turner won outright, a feat which was equalled the following year by Bob Gerard. John Bolster tested Nurse's car early in 1959 and found that, with its tuned engine, it would accelerate to 60 mph in 12.7 sec (the "standard" time was 15 sec) and reach 93.7 mph as opposed to the standard version's 85 mph. Bolster's test contains a string of compliments for a little car which could outperform , in real terms, so many of its larger-engined rivals.

Towards the end of 1959, Turner announced the Sports Mk 1, which was basically a re-styled variant of the marque though using Triumph Herald front suspension (another item of kit taken to the bosom of the sporting fraternity). Further, alongside the BMC engine, at a basic price for the kit of £550, the customer had the choice of the 1,098 cc Coventry Climax FWA or the 1216 cc FWE variant. Additionally, the tuning firm, and Turner dealer, Alexander, offered an alloy crossflow head and special camshaft on the "A" series engine, along with front discs (otherwise standard only on the Climax-engined cars) and though the Turner-Alexanders were spoiled by an uncomfortable flat spot at 3,000 rpm, they would reach 60 mph in 13.4 sec and top 95 mph (The FWA Climax-powered cars returned 12.8 secs and 104 mph).

In 1961, Alexander built a one-off Turner GT which was styled by the erstwhile Ferrari works driver, Mike Parkes, and which, in the hands of Wing Commander Alexander, enjoyed a successful competition career thought he object of the exercise was publicity and a production run was never planned.

The Sports Mk 1 cars were still open to criticism in terms of trim and retardation and, in late 1960, the Sports Mk 2 was announced which overcame most objections and which came with front discs as standard and even more engine options, Ford's 997 cc and 1,340 cc units being available, with the 1,500 cc version added to the list 18 months later. Turner had moved away from being the producer of an Austin A30 or A35 Special and had developed a separate identity, and identity enhanced by motor racing especially by one car, "Tatty" Turner.



TURNERS enjoyed their fair share of competition success. On the left is a BMC-powered 950 racing at Brands Hatch in 1956 while the car on the right is the most famous Turner of all, the Climax-powered "Tatty Turner".


This racing Turner was conceived by a dealer, Gordon Unsworth, and built by Alan Smith who also tuned the FWE engine. Driven by Pat Ferguson in 1961 (14 wins, six seconds and three thirds) and the following year by Warwick Banks, who enjoyed similar success, it was capable of beating even works Lotus Elites and both men won their class in the "Autosport" Championship in successive years. "Tatty" is still alive and well, living near Derby and is sometimes to be seen in club racing.

At the Racing Car Show of 1962, a new Turner, the pretty 2+2 GT was announced, this had a fibreglass body and monococque with bonded steel floorpan bracing, as previously had an experimental Sport Mk 1. Suspension and layout followed established practice except that the rear torsion bars became trailing arms in conjunction with coil springs and Girling dampers. Turner conceived this car as seed corn for the future, a model ready against the day when the two-seaters might falter in the market place, and so did not push it. It was available to order only and just nine were built, all with Ford 1,500 cc engines though Conventry Climax units were offered as options. Since all nine are in existence, it suggests the cars were properly conceived.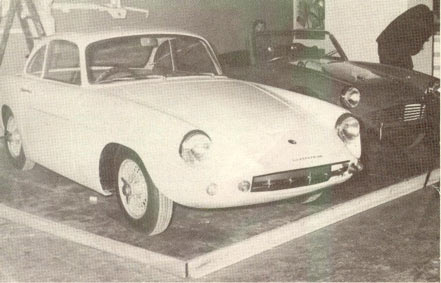 THE Turner stand at the 1962 Racing Car Show. In the foreground is the prototype Turner GT, of which just nine were built, which shares the stand with a Sports Mk 2 model.


Most "authorities" state that this model caused a drain on Turner's resources which led to the end of the company. This is nonsense for over three years elapsed between its introduction and the company winding up and, in small companies, the time-scale between a wrong decision and financial difficulties tends to be much, much, shorter. It is my theory, and one with which Jack Turner agrees, that most specialist sports car companies which enjoy success do because their original concept strikes a particular nerve and they build their success around an identifiable type. When they stray from an established line of development (as did Marcos with the Mantis or TVR with the Tine) the buying public becomes wary and the new concept invariably fails. Lotus is an exception to this rule because Colin Chapman was able to demonstrate through his racing cars that he was a man capable of bold innovation which often worked so a buyer might reasonably take a chance.

Jack Turner was, in fact, working on an innovatory design when he closed his business. This was to be an open two-seater with a glassfibre monocoque built along the general lines of the GT but using a rear-mounted Imp engine. This would have been the first glass fibre monocoque open sports car but it did not get beyond making the moulds, which were sold when Turner Cars went into liquidation.

Late in 1963, Turner rationalised his line with the Sports Mk 3, with detail body revisions, and which specified the 80 bhp 1,500 cc Ford Cortina GT engine which propelled the car to 105 mph and gave 0-60 mph in 10.5 seconds, easily out-performing the contemporary MGB. These sold steadily at a rate of about one a week and supplied 80-100 cars to the total of around 800 Turners.

Turner decided to go into voluntary liquidation in January 1966. He'd been operating the company by himself, acting both as designer and businessman and most successful companies operate on two men with complementary talents, though Jack had foreseen this and had had talks with both Reliant and Watsonian, the sidecar maker, with a view to cooperative arrangements. An American agent had let him down and six cars had to be sold in the States at a loss. The sum involved was not large but the company had always existed on something of a knife edge and the loss hurt it. Turner realised that if the long-term future was to be assured, everything needed restructuring, especially the dealer network but ill-health prevented this.

Jack went into hospital in January 1966, knowing he was going to be out of action for some time, and the closing of the outfit before it ran into real trouble, seemed to be a sensible move. Thus one of the most promising, and best liked, of post-war British sports car makers went under the hammer.

Jack recovered from his illness, went on to senior positions with several important engineering firms and, now retired, lives in South Wales. --- Mike Lawrence