For many vintage racers, looking good, or at least looking different, is as important as going fast and winning -- maybe even more important. Well, here are five very British sports cars that won't be mistaken for the Triumphs, MGs, Sunbeams and Austin Healeys that fill most grids at vintage racing venues.





One of the more successful British specialty sports car builders was Turner Sports Car Ltd. John "Jack" Turner was a grassroots racer with a talent for building race cars and engines. The latter included a 500cc, twin overhead cam, four cylinder for Formula 3 racing. His first complete cars in the late 1940s were some ten sports roadsters using Ford, Lea-Francis, MG, and Vauxhall engines.

Series-produced Turners starting in 1955 were comparable in size, amenities and performance to basic British sports cars like the Austin-Healey Sprite and MG Midget. Remember though, that the Sprite was not introduced until 1959! But unlike these others, which were street cars convertible for weekend racing, the Turner was a racer that could be driven on weekdays. Therefore, most Turners will come with a racing history, making them highly desirable vintage racers today. In their day, Turners garnered many trophies -- including winning four Autosport Championships. Turners took the overall title in 1958 and in 1959 and were the top under-1300cc cars in 1961 and 1962. A large percentage of the Turners were exported to the U.S., where they did well in SCCA competition mainly because of their excellent handling.




All Turners had fiberglass bodies, which gave them a couple hundred pound weight advantage over other, steel-bodied sports cars. Turners came in either completed or kit form.

The 803 designation was assigned to the first "mass" produced Turners because they used the 803cc, four-cylinder engine from the contemporary Austin A30 as well as its four-speed gearbox. The engine was used in stock form for an output of 30 horsepower with a single Zenith carburetor.

The Turner's two-seat, tubular-braced fiberglass body was bonded to the ladder frame chassis, and the main tubes were joined by crossmembers front and rear; this basic design would be used throughout the Turner's life. Up front the pressed-steel wishbone and coil spring suspension was taken pretty much intact from the A30. The rear suspension was designed by Turner and incorporated transverse laminated torsion bars with twin trailing arms, solid rear axle, tubular shocks and a Panhard rod.

Weighing in at around 1200 pounds, the 803 was able to do an honest 80 mpg. It had a 80.5 inch wheelbase and was 138 inches long and 54 inches wide. This was a very basic sports car with spartan accommodations, a minimum of creature comforts and suicide doors. Depending on the source, between 75 and 100 Turner 803s were built.

The Turner 950 used the 948cc four-cylinder engine from the Austin A35 with the same chassis as the Turner 803. The 948cc engine came in two states of tune: with a single Zenith carburetor, it put out 34 horsepower, and with a single SU, power went up to 40 horsepower. With the latter, top speed was boosted to around 90 mph. The mildly restyled body included fins topping the rear fenders. A second series in 1958 got twin SU carburetors and 43 horsepower. About 150 Turner 950s were reportedly built.

In 1959, the Turner received a major redesign with the introduction of the Turner 950 Sports Mark I. For starters, this car had a much sleeker and wider appearing body. The doors were now conventionally hinged, the tail fins were gone and the grille was more squat and wider. Power usually came from a 60 horsepower, 948cc, twin-SU-carbureted engine. About 150 Mk Is were built.

The Mk II Sports model was launched in 1960; this featured a less spartan interior and better instrumentation. Even so, Turners would never be known for their interior design, nor their fit and finish. Most of the Mk IIs used Ford powerplants, initially in 997cc, 1098cc or 1340cc form. With the Ford engines one got a coil spring and wishbone front suspension borrowed from the Triumph Herald. In 1963, the Mk II Sport got a large air scoop to distinguish it from earlier versions. By that year, buyers quite often opted for a twin-carbureted Ford 1499cc engine with a modified head and twin SU carburetors producing 80 horsepower.

The next Turner to appear was the Turner GT, the rarest of the Turner series with only nine produced between 1962 and 1964. The GT, as befitting the name, was a coupe with 2+2 seating. Of all the Turners, this was the most refined model. Besides the entirely new body, the GT had a revised chassis that resembled a box-section arrangement with a steel floorpan welded on. The front suspension came from Triumph and coil springs, trailing arms, Panhard rods, and telescopic shocks were found on the rear. Disc brakes and wire wheels were standard. Most, if not all, the GTs were fitted with the 1500cc Ford engine that gave a 110 mph top speed and good acceleration.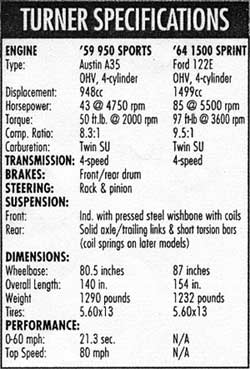 The final Turner to be produced was the Turner Sports GT Mk III that appeared in late 1963. The Mk III received minor face lifting, included a revised hood and rear. The car was equipped with the Ford 1499cc engine, and wire wheels became standard (these had been optional in the past, although most buyers had opted for them).

As purposeful as these cars were, even the Turners were not specialized enough for some buyer, so Alexander Engineering, a Turner distributor, made some modifications of their own, namely fitting Mark Is and IIs with disc brakes, close-ratio gearboxes, and an Austin-Healey Sprite engine with their own crossflow cylinder heads. The Alexander-modified cars were real screamer, able to top 100 mph and turn in a 0 to 60 mph time in 13 seconds.

Starting with the 950 Series, Turner customers could opt for more potent Coventry Climax overhead camshaft, four-cylinder engines. These included the 1090 cc Coventry Climax FWA, which was rated at 75 horsepower. Even more portent was the 1216cc Climax FWE also found in the Lotus Super 95 Elite; depending on the state of tune, it produced between 75 and 105 horsepower. The Climax-powered cars, often called Turner Climaxes, could run circles around cars like the Austin-Healey Sprite and had a top speed of 100-plus mph.

By 1966 Turner Sports Cars Ltd. was having financial difficulty. Competition in this market was becoming more fierce, and Jack Turner's health was suffering. However, even in its last days, Turner had a new model on the drawing board. This was a rear-engined coupe that was to have used the engine from the Hillman Imp. It never reached production.