Abergavenny born John (Jack) Turner began a general engineering apprenticeship at the age of 15. He spent the war years heading up a large tool-making facility which, amongst other things, made parts for aircraft, but after the war his attention turned to cars and he built his first Special, which was based on a supercharged MG Magnette. By the dawn of the 1950s the Special building scene was burgeoning and Jack was also quick to appreciate that the industry would need the services of competent engineers and machinists. He established a business in a converted stable block and smithy at Seisdon near Wolverhampton, and it was here that he began designing and developing his own range of cars, as well as providing for the requirements of the Special builder.

The Turner prototype emerged early in 1950, establishing a pattern for all Turners up until 1955. Apart from the GT, all models from 1955 onwards used a ladder frame chassis, which was quite different to the earlier design. The prototype notched up around 50,000 miles of everyday driving, more than proving the reliability of the basic design. The first eight Turners were supplied in chassis-only form, the customer being responsible for providing the power unit and the bodyshell. Consequently, some care were more anesthetically pleasing than others! In 1953 John Webb commissioned Jack to build him a Grand Prix racing car, and it was chassis no. 7 that formed its underpinnings. Subsequently some of the other chassis were converted from Formula 2 usage, and there were fitted with various engines, including Turner's own 2-litre unit with its high mounted cams and short pushrods. The Formula 2 Turners didn't set the racing world alight but Webb's example managed some successful placings.

Jack also redesigned Don Trueman's rather heavy and uncompetitive F3 Marwyn. Of more interest and though, is the Turner 500cc engine, which was built with an eye to the F3 market. The compact DOHC power unit had a water-cooled head, air-cooled barrels and roller bearing crankshaft. It showed flashes of promise when tested, but ultimately proved to be unreliable and uncompetitive. The cylinder head assembly was also trailled on a BMC 'A' series engine.


Left: The 'first' Turner, a Turner MG Special with Jack Turner on the left.

Right: 1958 Turner 803 owned by Peter Atkins.


From 1954 onwards Jack concentrated on more 'mainstream' projects and focused his energies on designing and developing a small, economical sportscar. John Webb became a co-director of Turner Sports Cars Ltd and assisted with the provision of capital, remaining with the company until 1960.

The attractive Turner 803 was introduced in late 1954, deriving its moniker from its 803cc Austin A30 engine. In fact, the A30 provided the majority of part apart from the rack and pinion steering, which was lifted from the Morris Minor. At the rear of the car there was a well-located live rear axle with telescopic dampers, trailing arms, torsion bars and a Panhard rod. This set-up provided excellent handling characteristics, and similar installations would serve the company well throughout the years.

Although some 803s had steel bodyshells, the majority were fibreglass produced by Hils Fibreglass Developments Ltd. From 1955 Turners adopted the practise of attaching the GRP body to a sheet steel inner.

By now, the company had deserted the old smithy for new premises in Wolverhampton, although a year later they relocated to Pendeford Airport on the city's outskirts where they stayed until the company's demise, and this period of upheaval delayed production for a while. However, Jack Turner 'assisted' singer Petula Clark with the purchase of a Turner (the first of two she owned) thus generating valuable publicity.

For the home market (many Turners went to the USA), most cars were sold as kits to escape purchase tax. Purchasers could elect to do most of the fabrication themselves, or they could buy whatever they required from the company, ready made. The 803 could reach 80 mph and was economical to boot; it was well made, practical and a welcomed addition to the marketplace. Around 50 were made and sales further improved when the car became the 950 thanks to the introduction of BMC's new 948cc engine.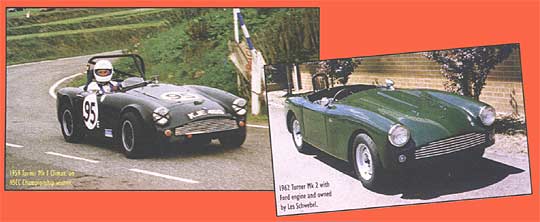 Left: 1959 Turner Mk I Climax, and HSCC Championship winner.

Right: 1962 Turner Mk 2 with Ford engine and owned by Les Schwebel.


The car was restyled in 1959, becoming the Sports Mk I, the basic BMC kit costing £550. There was a wider choice of engines, including the Coventry Climax FWA or 1216cc FWE units (the Climax engine had been an option on all Turners since 1957). Tuning firm (and Turner dealer) Alexander offered a range of goodies such as alloy crossflow heads, special camshafts and disc brakes. In 1961, they built a one-off Turner GT designed by Ken Mackenzie, with Mike Parkes (Ferrari works driver and one of the Hillman Imp designers) also having a hand in its creation.

Like others of its ilk, the Mk I was the subject of minor criticisms, most of which were addressed by the introduction of the Mk 2 in 1960. Triumph Herald front suspension and steering became available as an option and the choice of engines included Ford's 997, 1340 and 1500 units.


1962 Turner Mk 2 with BMC engine and owned by Tony Hockenhull.


Despite Jack's deliberate move into the world of road cars, his products were achieving more and more success on the tracks. A racing Turner nicknamed 'Tatty' was regularly putting the works Lotus Elites' noses 'out of joint' by beating them! Pat Ferguson raced the car in 1961 with impressive result, and Warwick Banks enjoyed similar success the following year. 'Tatty' survived its many competition forays and is still with us today. In 1961, the attractive Turner 2+2GT was announced at the Racing Car Show, this being available only to order with a standard fitment Ford 1500cc engine. Just ten were built and quite a few still survive.


1966 Turner Mk 3 with 1500cc Ford engine owned by Bryan Shaw.


Late in 1963 the Turner production line was rationalised when the Cortina GT-powered Sports Mk 3 was introduced. Unfortunately time was running out for Turner Sports Cars Ltd. Like so many of it contemporaries, the company existed on a financial knife-edge, and Jack Turner simply had too many things to do and not enough support or capital with which to do it. He also suffered a period of ill health, forcing him to pull the plug on the company before someone else did, although right up until the closure of the factory he was still devising new projects, one of which was an open two-seater sports car equipped with a rear-mounted Hillman Imp engine.

Thankfully Jack recovered from his illness and went on to work in a senior position for a number of large engineering firms, before eventually retiring to Crickhowell in South Wales. Of the 700 or so Turners produced, around 260 survive. The excellent Turner Register is very supportive and can help enthusiasts in numerous ways. Contact David Scott, 21 Ellsworth Road, High Wycombe, Bucks HP11 2TU, tel 01494 445636.