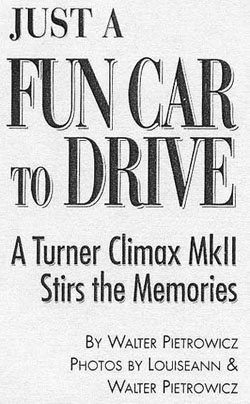 This past spring, we were privileged to witness the maiden voyage of a refurbished "metallic green" 1960 Turner Climax MkII belonging to owner Fred Burke. Dressed in full racing garb, this "thirty something" dynamo of 75 iron "Climax" horses was quick to conquer the racing surface and was even quicker to challenge the Fiats, Elvas, Porsches, and other Group A rivals during this year's SVRA vintage racing event, "Easter in Savannah." It wasn't long before the Turner's good handling and Fred's racing dexterity had competitors seeing "green" in their rear view mirror as the petite MkII flexed all its muscles.

The goal to produce an entry-level sports car that could be driven directly from showroom to racetrack was the conception of English automobile manufacturer, Jack Turner. And by skillfully employing a slue of reliable Austin A-35 components into this own "round steel tube" chassis and stylish fiberglass body, Turner was able to materilaize that vision and produce a low cost automobile that was highly competitive on the track.

Unfortunately, the lack of a strong dealership network and, most importantly, Austin's unwillingness to continuous to supply many of the Turner's needed components at reasonable pricing and their own development of the "Bugeye" Sprite with Donald Healey, set the ball in motion for the Turner's demise. As a result, unable to maintain an attractive sticker price in order to compete, Turner was forced to end eleven years of production in 1966. In the end, approximately 670 sports cars were produced and over 40 percent are still running today.


| | |
| --- | --- |
| | Fred Burke enjoys driving a car that was bred for the track but isn't very common at today's vintage meets. |



This particular Turner was fully restored to its original luster by the talented team of Jim Loftin and Toby Bergin of Import Service and Restoration in Atlanta. Rebuilding this nimble racer fron the ground up, this skillful pair managed to utilize many of the original components, including the Turners ladder-type frame, gearbox, fiberglass body, interior gauges, wheel and the Coventry Climax power plant, a true testimony to the engineering and worthiness of the species. It didn't take long for the new owner to successfully master the racing attributes of the English neophyte. After the race, a smiling Mr. Burke was fast to point out that while, "the Turner is very quick on its feet, it's just a fun car to drive." See you at the vintage car races.