JACK TURNER has been known for a long time in racing circles as a designer of some note. In particular, his racing single-seater with fuel injection, various independently sprung sports cars, a Shelsley special, and a four-cylinder 500 c.c. engine will be remembered. Nowadays, he is very fully occupied in producing small sports cars at a reasonable price, and also supplies sets of components to home constructors.

The basis of the Turner car is a very rigid twin-tube frame. The front suspension parts of the Austin A35 are employed, but although an A35 rear sxle is also reatured, something better than semi-elliptic rear suspension is naturally used. The axle is on trailing arms, and is located laterally by a Panhard rod. It is interesting that helical springs or laminated torsion bars may be specified according to preference. In either case, telescopic dampers of adequate proportions are fitted.

The power unit is basically the "A" series B.M.C., and may be had in standard or tuned form. For those requiring a lively little road car, the standard engine will suffice. The man who has competitions in mind, however, will want the tuned unit. The same applies to the gearbox, which may contain the normal gears or a close-ratio set of pinions. Generally, the tuned engine and the close-ratio gears will go together, and, of course, the owner who wishes to improve his car may change it from one specification to the other at any time.

The fiberglass body is built at the Turner works. It is a throughly practical open two-seater, with doors of reasonable size. Quite excellent is the luggage boot, for sports cars are often used for long distance touring, and nothing is so annoying as having to explain to the lady on your left that there is only room for a toothbrush and a bikini. The hood and sidescreens are well made, but could be improved in detail as regards ese of erection and freedom from draughts. It is understood that these points will receive attention.


| | |
| --- | --- |
| HOOD DOWN, and the Turner shivers in the murky gloom of Hyde Park. The Turner is neat and practicable without being pretentious in any way. | |

Naturally, the readers of AUTOSPORT are likely to be more interested in the turned version than the one with the standard engine. Accordingly, and with the approval of Jack Turner, I borrowed the car with which Austen Nurse competed in the AUTOSPORT Championship last season. This is absolutely standard as regards the chassis and body, but has the tuned engine and close-ratio gears. Nothing spectacular has been done to the power unit, but an immense amount of that kind of work which is generally known as "careful assembly" has taken place. All the moving parts have been meticulously polished and balanced, and a lot of trouble has been taken over the ports. Twin S.U. carburetters are standard on the Turner, but in this case they are insulated from engine vibration by rubber. There is a cold air intake, and an oil radiator is fitted which is a normal Turner feature. In general, this can be regarded as a particularly good B.M.C. engine, but the tuning, though thorough, has been kept within the Appendix J regulations.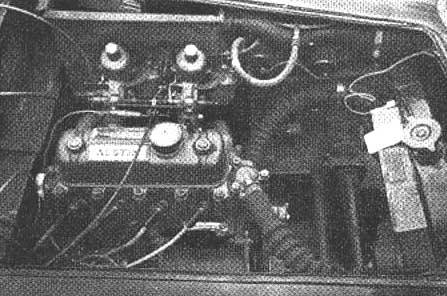 NOTHING SPECTACULAR has been done to the engine but a great deal of care has gone into its assembly.


The Turner is quite easy to enter, and the high body sides give good protection. The engine starts well from cold, and will pull away immediately. It is smooth and very tractable, but the power output above 4,000 r.p.m. is obviously much greater than that of the standard unit. I used 6,000 r.p.m. on the gears when taking the performance figures, and 5,500 r.p.m. under normal conditions, while 5.800 r.p.m. was the most I achieved on the top gear. I am told that valve bounce begins at 6,300 r.p.m., but I did not press the willing little unit as far as that.




At the excellent timed maximum speed of 93.7 m.p.h., the small machine was perfectly steady and rode the bumps well, in spite of its short wheelbase. The time of 17.8 secs. for the standing quarter-mile must be regarded as sensational for a car of only 950 c.c. It was made possible by the close-ration gearbox, which allows 60 and 80 m.p.h. to be exceeded on second and third speeds respectively. The up changes may be made as quickly as the hand will move without any sound or shock, and although the clutch smelt a little during the performance tests, it always gripped instantly after a snap change.

The rinding comfort is good at all times, with no tendency to pitch. The steering is "quick" enough to allow rapid skid correction when the roads are icy, and the pedals are well arranged for "heel-and-toe". The brakes cope easily with a projectile of such moderate weight.



Specifications and Performance Data



| | |
| --- | --- |
| Car Tested | Turner 950 sports 2-seater, price £575 plus £288 17s P.T. (or £550 as kit of parts). Extras on test car: Rev.-counter, tuned engine, close-ratio gears. |
| Engine | "A" series B.M.C. unit in stage II tune, four cylinders 62.94 mm. x 76 mm. (948 c.c.). Pushrod operatedoverhead valves. Approx. 60 b.h.p. at 5,800 r.p.m. Twin SU carburetters. Lucas coil and distributor. |
| Transmission | Single dry-plate clutch, four-speed gearbox with central remote control, ratios 4.87, 5.84, 8.16, and 12.17 to 1. Open propeller shaft. Hypoid rear axle. |
| Chassis | Twin-tube frame with A35 helical spring front suspension. A35 rear axle on trailing arms and Panhard rod, with helical spring and telescopic dampers (laminated torsion bars to choice). Lockheed hydraulic brakes, 2LS in front. 5.20-15 ins. tyres on bolt-on disc wheels (wire wheels to choice). |
| Equipment | 12-volt lighting and starting. Speedometer, rev.-counter, oil pressure and temperature and water temperature gauges, fuel gauge, ammeter, flashing direction indicators, self-parking windscreen wipers and washers. Long-range and fog lamps (extra). |
| Dimensions | Wheelbase, 6 ft. 8½ ins.; track, front 3 ft. 9½ ins., rear 3 ft. 8¾ ins.; overall length 11 ft. 6 ins.; width, 4 ft. 6 ins. Weight, 11¼ cwt. |
| Performance | Maximum speed 93.7 m.p.h. Speeds in gears, 3rd 83 m.p.h., 2nd 61 m.p.h., 1st 38 m.p.h., standing quarter-mile 17.8 secs. Acceleration, 0-30 m.p.h. 3.4 secs., 0-50 m.p.h. 8.6 secs., 0-60 m.p.h. 12 secs., 0-70 m.p.h. 17 secs., 0-80 m.p.h. 23.2 secs. |
| Fuel Consumption | 32 m.p.g. |

Roadholding is definitely a strong feature of the Turner. The little car is too low to roll appreciably, and it seems to enjoy fast cornering. The rear axle is well behaved, being positively located against bounce or judder during violent acceleration or braking. Even when bumps are struck during fast cornering, the amount of rear end breakaway is quite moderate. The problems of obtaining good roadholding are considerable when a proprietary rear axle is used on a light car. In this case, the positive location of the beam, allied with the strategic positioning of the telescopic dampers, gives roadholding which approaches that of some more complex designs.

Although the centre of gravity is low, the seating position is a little higher than in some sports cars. This is an advantage from the aspect of dazzling headlamps, and as the mudguarding is effective, the screen tends to keep clean. The machine is, in fact, a perfectly satisfactory "shopping car" because its sporting attributes have not been developed to the point where practicability suffers. Again, the appearance is unobtrusive, and does not invite police persecution as appears to be the case with some sports cars. The whole vehicle is solidly constructed and well finished, and the fuel consumption remains moderate even during hard driving.


| | |
| --- | --- |
| | COCKPIT is well set-up and the seating position a little higher than on most sports cars. It is comfortable and the machine is a satisfactory shopping car in addition to its sporting nature. |

In addition to the B.M.C.-engined models, there are also Coventry Climax-powered Turners. When I was at the works, one of these was being fitted with a coup'e body, which had gull wing doors and a frontal treatment slightly reminiscent of a Citroën "Goddess". Other activities included the development of a twin-camshaft light alloy cylinder head to be used in conjunction with a modified B>M>C> 950 c.c. block. The cylinder blocks are delivered to Turners undrilled, so that the location of the studs can be changed, for a head with inclined valves naturally has different water passages from a normal vertical valve layout. In the past, some twin-cam conversions have failed for this reason.

When this cylinder head is completed, it will render the 950c.c. Turner an even more potent competition car, but, of course, development takes time. A detachable hardtop, of fiberglass construction, is to be offered for these cars, and conversion sets for those who prefer knock-on wire wheels are available, as is a heater. For full details, write to Turner Sports Cars (Wolverhampton), Ltd., Pendeford Airport, Wolverhampton.